How To Set Up Hookah: A Detailed Guide On Parts Of Hookah
Whether you are a complete beginner or have issues setting up your hookah, you need not worry anymore! We are here today with the best guide on how to set up hookah. Even enthusiasts who need to fix their issues with their setup every now and then need to know how to set up hookah properly. You are entitled to better hookah smoking sessions when you know every Knick and knack of setting up a hookah. You would have to understand the entire concept of every part of a hookah, which would lead to a top-notch smoking session. So sit back, and enjoy your perfect and brand-new hookah setup. It is time that you should have some fun and let others too enjoy your presence.
Essential Parts Of Hookah: What Do You Need To Smoke Hookah?
We will discuss everything you need to smoke a good shisha. Our blog will be the best way to double-check that you have everything you need to know how to set up a hookah.
If you are new to hookah, you must have a keen interest in visiting a local hookah lounge with your friends. Now, after you have seen the lounge, you want to make this a hobby. There are several questions when you think about purchasing a hookah. Where do I start? Where can I buy a hookah? What is the best hookah to buy?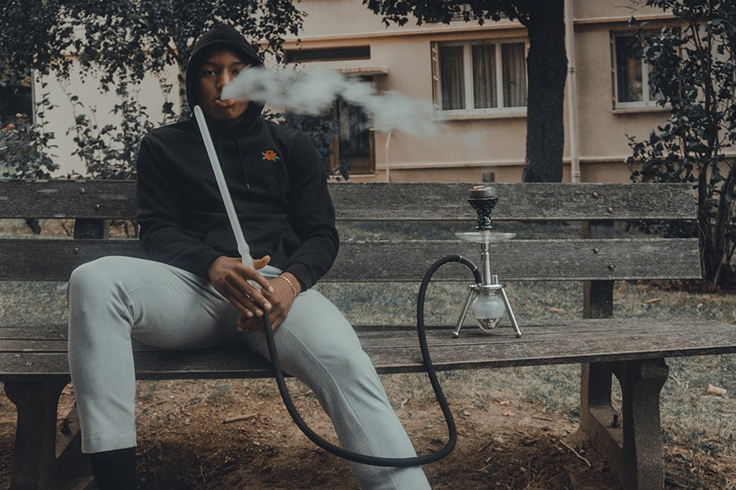 If you take the advice of a professional hookah smoker or your local lounge, you will get a gist of what is required to set up a hookah. However, it would be best if you remembered that preferences always differ. Many persistent smokers would direct you towards the latest and greatest hookah products. This is because that is what they want or currently smoke. However, as a beginner hookah smoker, you do not need to have a high-end product. We want to direct you towards something simple yet effective. If you want to know how to set up hookah on the first attempt, you need a 'reliable' setup. Now, what do we mean by a reliable setup? We will ask you to purchase such a hookah set with which you can dive into and give room for upgrades later on.
Buy Your First Hookah and know How to Set up Hookah
When looking for your first hookah setup, the choices can be overwhelming—so many brands and styles that the list is endless. We suggest starting with a small to medium size hookah. Usually, these hookah setups are budget-friendly but also reliable and will preferably match your style. The pretty tall hookahs would only cost you more and are more complex to set up as a beginner. Thus, there is no real benefit of purchasing tall hookah for your sessions. The tall ones are expensive too, yet they look pretty and don't improve your hookah session much.
When you get a medium-sized hookah, it comes with its essential accessories. These include the hose, bowl, grommets, and charcoal tongs. This would take care of your initial setup, and you have now acquired the basic knowledge of how to set up hookah.
What Are The Essential Hookah Supplies And Its Accessories?
Before we get inside the details of how to set up hookah, there are a few things that you need to take care of. We have provided a checklist below, so make sure you have access to these before smoking your hookah. In addition, you can consider this checklist as your hookah shopping list the next time you visit a shisha store.
Hookah Foil
Charcoal
Hookah Bowl
Hookah Hose
Flavored Shisha Tobacco
Hookah Cleaning Supplies
Thus, your hookah shopping list is ready. First, take a detailed look at each of the accessories mentioned above.
Hookah Foil
This accessory is a must when setting up your hookah. So you better have it on your list when purchasing your first hookah. You can also use good-quality kitchen aluminum foil. It would be of great advantage if the foil is heavy-duty and consists of several layers. You can also purchase specialty hookah foil as a new hookah smoker as it is already shaped for your hookah bowl. These even come pre-punched. Tightly cover your shisha-packed bowl. If it isn't already punched, use a toothpick, or pin to poke some small holes on it. Make sure that the holes are small and spread them out for the best heat transfer from your hookah coals. If you have a high budget for your hookah setup, you can also get an HMD or heat management device.
Charcoal
There are mainly two types of charcoal available in the market for a hookah session. One is natural charcoal, while the other is a quick, light one.
Natural charcoal will allow a better hookah session as it does not affect the taste of your shisha. However, the light-up time may be a bit longer for natural hookah coals. Yet, these last longer and are much cleaner.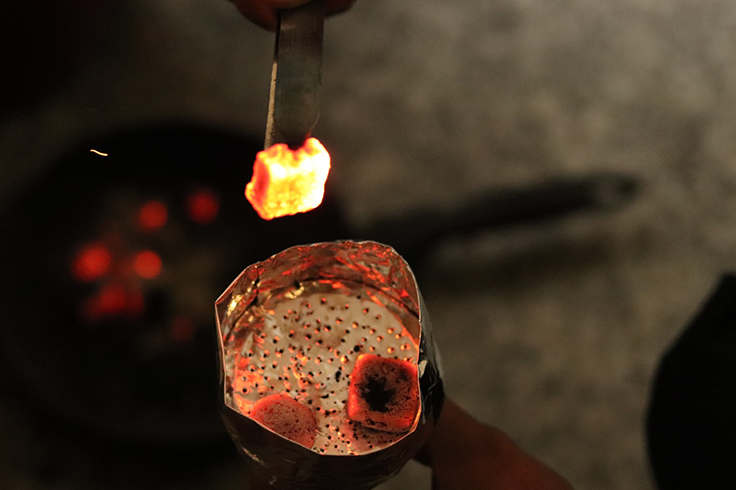 The quick light charcoal is excellent when you do not have access to a good heat source. This charcoal can be lit with the help of just a lighter.
Hookah Bowl
Now that you know about the basics of how to set up hookah, you need to move on to upgrade a few things to your setup—the essential item being the bowl. The more blonde leaf shisha tobacco we choose, the more its flavoring would be. Thus, you can get a phunnel bowl to contain that juice and help you with an excellent hookah session.
Hookah Hose
Another upgrade that you can do to your hookah setup is with the hose. The hoses which come with your hookah package aren't built well and cannot be cleaned. Over time, hookah hoses tend to rust, and the lining on the inside begins to deteriorate. You can get a silicone hookah hose for your setup, which is easier to wash. The flavors wouldn't be ghosted in the hose, and thus, you would have a perfect hookah session. You can also get a carbon hose if you have a high budget.
Shisha Tobacco
Last but not least, this is the endgame for your basics to learn how to set up a hookah. There are mainly two types of shisha tobacco available in the market – dark leaf tobacco and blonde leaf tobacco. As a beginner, we would like to suggest that you go for lighter, blonde leaf hookah tobacco. This is because the nicotine content is lower. You can slowly work into higher nicotine dark leaf shishas as your tolerance grows. There are various brands of shisha tobacco from which you can choose. Scan through the multiple brands available in the market, and we are sure you will indeed find something suitable for your needs. Most options include fruit mixes or mint, so just go with your gut! When packing blonde hookah tobacco, lightly sprinkle the shisha of your choice into your bowl. Pat it down gently, just below the rim of the bowl, for best results! You can choose from a huge variety of incredible flavors and varieties when you buy hookah shisha tobacco from your nearby store.
How To Set Up Hookah?
Step 1: Assemble the Stem, Vase, Pressure Release Valve & Hose | Check The Air Flow
Before starting your hookah session, test the airflow to confirm that your shisha pipe is working correctly. Set up the stem, including the pressure release valve making sure the ball bearing is inside and moves freely. You would need to connect the stem to the vase using a vase grommet. Attach the hookah hose with the grommets as well. Ensure that each hookah part is secure and intact. Cover the top of the hookah with your hand and inhale from the hose. It would be best if you got very little to no air.Thus, you have an air-tight hookah. If you are getting air, check the grommets for a secure fit.
Step 2: Fill The Hookah Base With Water
Once you have proper airflow, detach the base and fill it with water. Thus, when you reconnect it, the water covers one (1) inch of the inserted down stem. You would have to reconnect the hookah base with a rubber grommet securely.
Step 3: Pack Your Shisha Bowl
There are various ways to pack your shisha bowl. We are going to talk about how you can fill your bowl in the standard form. Stir your shisha inside the bag or tin to mix in glycerin and flavors before breaking it up and sprinkling it into the hookah bowl. Fill the bowl to the rim and gently pat down the tobacco until slightly below the rim. Cover your shisha bowl with foil. With the help of a toothpick, poke holes evenly around the foil to create airflow. Finally, place your hookah bowl on top of the stem using a rubber grommet.
Step 4: Light The Charcoal
Depending on the type of charcoal you have, you would have to light your charcoal accordingly. Then, once it is lit, place it on top of your hookah foil and get to smoking!
Ending Note: Get On With Your Smoking Session!
Now that you know everything about how to set up hookah, give it a minute to heat, and start taking some puffs. Make sure that you do not begin taking puffs right away. If you do so, your whole hookah session will become less enjoyable. Instead, wait for at least 5 to 7 minutes so that the tobacco bakes and starts producing smoke.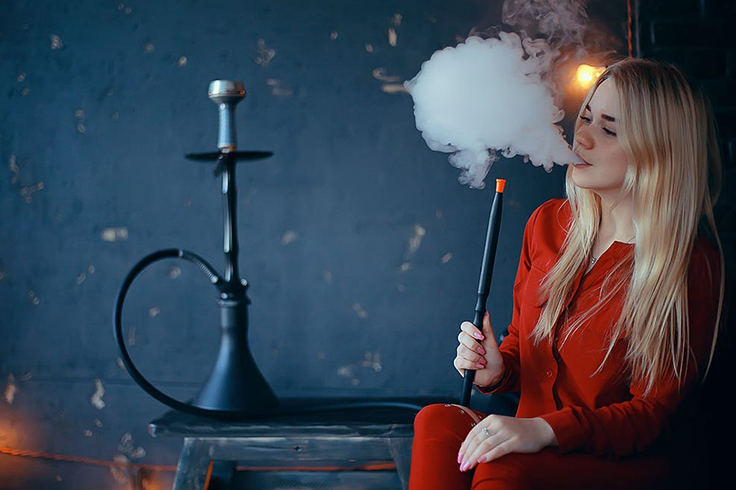 As soon as you see the smoke, get right on to smoking!