The Ultimate Guide To Different Hookah Accessories
Let us get into starting with a detailed guide to various hookah accessories.
The first one on our list would be an HMD or heat management device. So what is a hookah HMD? This is a heat management device that makes you enjoy the perfect hookah bowl. Most of these provide an added advantage that helps your coal last longer. Thus, there is also a chance of using fewer coals, thus saving a lot of your time and money. This is an excellent way by which you can enjoy your hookah session. But like almost any other industry out there, the hookah industry is ever-evolving and improving. There are various HMD's or Heat Management devices and a virtually unlimited number of improved bowl options to fit your desired HMD.
What Is A Hookah HMD in Hookah Accessories?
An HMD is a heat management device that helps to make it easier to enjoy the perfect bowl. These come in various styles and functions, so you have options to choose what fits your specific needs.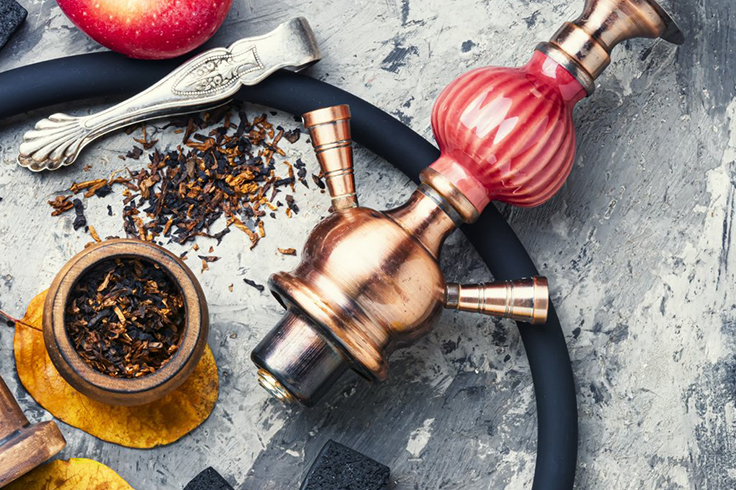 An HMD is one of the best hookah accessories you can buy to help you with your hookah sessions. We are going to inform you about the top-notch HMDs in the market here. So stay tuned!
Hookah Accessories: Kaloud Lotus Plus
This is one of the most favorite hookah accessories for the persistent hookah smokers out there. It is being used in various hookah lounges and personal sessions all around the world.
This Kaloud HMD is an updated and improved version of the original HMD, the Kaloud Lotus. There is no need to use a foil during your hookah session if you are using this HMD. Thus, users are entitled to a much cleaner Hookah experience.
This HMD is a bit larger than its predecessor. Thus, you can get that extra coal in there if you like to smoke on the warmer side of things. The improved rivets on the bottom keep your coals elevated, which reduces the chance of coals going black. There are many advantages while using this HMD for your hookah session. These are as follows:
It keeps the ash from going into your bowl.
Your coals will last longer since they are enclosed.
Speeds up your prep time by eliminating the foil.
It holds the heat much better.
Hookah Accessories: The Shisha Flavor Saver
This is one of the cheapest HMDs you can get as one of your reliable hookah accessories. But, don't let its price fool you. This HMD is a winner when it comes to its functionalities. When using this device, you can load your bowls a bit higher than usual. Once your bowl is packed and ready, put the flavor saver on top of your bowl. Set your coals on the HMD, and you are good to go! There will be a nice gap among your coals since they wouldn't be pressing against the foil. Thus, there is no scorching of the coals seen. The Flavor Saver is a fantastic accessory you can get for your hookah session.
Here we will end our top two picks for HMDs as your favorable hookah accessories.
Now, let us hop into ice tips and ice hoses.
Purpose Of Ice Tips Or Ice Hoses
This is another one of the most intriguing hookah accessories used to cool the smoke while inhaling it. When a hookah smoker takes the first inhale of an ice tip, they are going to get that tingling, smooth, ice-cold sensation that will be a unique experience they'll keep coming back for! Although, we would like to tell you beforehand that using this accessory could lead to a drop in flavor. Yet, many people around the world prefer the fresh, cold experience. Persistent smokers keep coming back for more of that icy session over and over. These hookah accessories have become extremely popular in hookah lounges across the globe. Many smokers are picking them up more and more.
Let us now talk about the top two picks for the best ice tips in the market.
Mystique Hookah Ice Hose Tip
This is the first ice hose ever to hit the hookah market and it still is as popular as ever. This accessory is 13 inches long and has ice gel packs that cool the hookah smoke when inhaled. You have to keep it in your freezer for a few hours, and you will soon taste the coolness of winter through your lungs. Depending on the temperature of your surrounding atmosphere, we assume that this ice tip can hold the cold for at least 45 minutes. You can use this ice tip with an Egyptian-style hose. Swap out the mouthpiece for the Mystique, and you are ready to rock!
Soguk Hookah Ice Tip
This is a lesser-known brand in the hookah industry. Still, it undoubtedly produces some of the best hookah accessories in the market. The rise in the popularity of silicone hoses in the Hookah world is massive. This is a 14-inch long hookah ice tip and has a unique way to cool the smoke down. There are coils inside the frozen ice chamber that wrap around to give the smoke a long time to stay in the ice zone. Thus, it helps maximize the cooling factor. You can pair this silicone hookah ice tip by slipping the tubing of the current handle and replacing it with Soguk to get that chilled-out session. Ensure that you can only use this hookah ice tip with a silicone hookah pipe.
Now, we will be moving over to the types of hookah mouthpieces for your session. You must have heard at almost every hookah lounge that they are out of mouthpieces. But, of course, as soon as you hear this, you instantly cringe and panic!
Compatibility Guide For Hookah Mouthpieces
Not knowing which mouthpiece to buy for your hookah session can be frustrating. You don't want to purchase the wrong tips and get stuck with hookah accessories you can't use. Thus, you need to be able to rely on the hookah mouthpieces fitting your hoses. We are going to tell you about two of our top picks for mouthpieces. We will also offer some best practices to ensure you never get stuck without plastic hookah tips.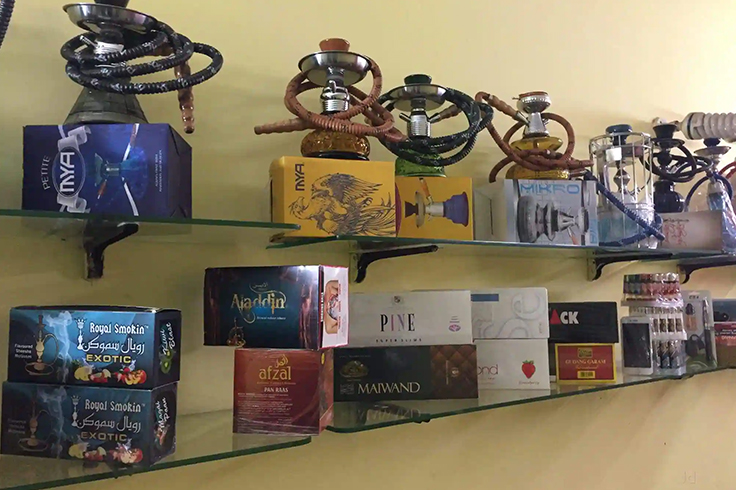 There are mainly five types of hookah mouthpieces:
Dual-sided hookah tips.
Jumbo hookah tips.
Medium jumbo tips.
Inside fitting tips.
Pharaohs' square tips.
You can choose from any of these tips according to your hookah hose pipe. But, of course, having a mouthpiece is always good whenever you are hosting a hookah session.
Now, let us hop into the various types of hookah. Having different hookah accessories is excellent! But, if you cannot get a good hookah set up for your session, all your money would be wasted on the hookah accessories.
Thus, now we will provide you with a hookah buying guide to help you choose the perfect setup for your session.
Quality and Construction To Look For In Hookahs
Stability
A hookah setup is bound to fall at some point in time. So, always go for a stable setup. This minimizes accidents and hassles during your session.
Ditch a hookah that is top-heavy or disproportionate.
Look for a hookah base that has a wide bottom.
Durability
Whenever there is a hookah session, it is bound to go through some stress. For example, constantly plugging hoses into your hookah puts a lot of pressure on the hose adapter. If it breaks, the hookah no longer functions until you can replace the shaft. If your setup feels heavy for its size, that is a good sign.
You want a hookah that has a well-built shaft.
Avoid shafts that unscrew into multiple pieces. It will be pretty problematic in the long run because the threading will strip over time.
Screw-in hose adapters are missed or hit depending on the brand. Get a hookah that has dependable screw-in adapters.
Look for the connection strength between the shaft and the hose adaptor. If the hose adapter is welded on, ensure that it has a strong weld.
Look for a hookah model where the hose connector and the shaft are one piece.
Hookah Hoses
Washable hoses are the best for maximum airflow and long-term usage. You can also get a heavy-duty silicone hose. These types of hoses have taken over the market pretty impressive, and we highly recommend them.
Get a hookah hose that is of high quality, preferably with a wide diameter hole running end to end.
Clean and clear out any debris or manufacturer defects.
Check for leaks. As long as there is no significant air leaking while inhaling and they feel at least 90% sealed, you're good to go.
Summary
So, these are some of the best hookah accessories you need to have for having a good hookah session. If you feel like we have missed out on something, let us know, and we will gladly add them to our list.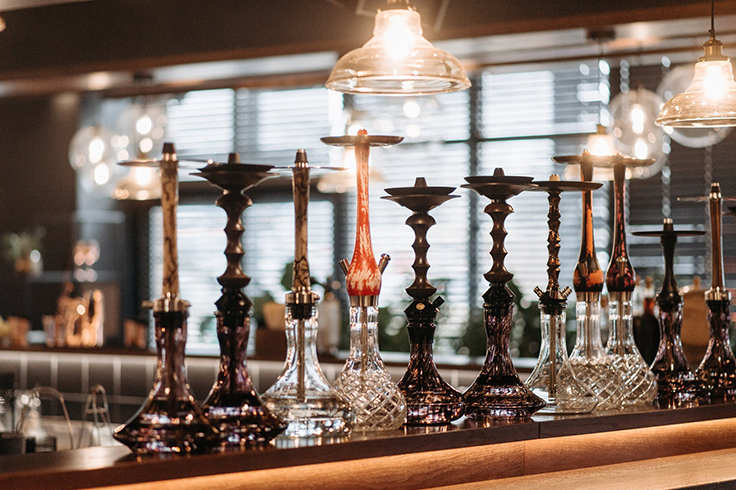 Be it the hookah setup, the pipes, the mouthpieces, or anything. Always make sure that you have the perfect setup ready for a fantastic hookah session!
Happy Smoking!