How To Make The Perfect Shisha Mix For Your Next Session | Best Hookah Shop
The most exciting thing about having a shisha session is trying out new and unique flavors. You would get such flavors from your local hookah shop or from an excellent online retailer. The list of new flavored hookahs is coming into the market significantly. Therefore, you have limitless options when you want to try out the best shisha mixes of all time. Yet, with the introduction of so many flavors, the whole smoking session could get monotonous at some point in time. Therefore, many individuals try to be creative.
Thus, they mix their own flavors from the best hookah shop near them. They make their own food, try their own recipe, always on the run to try something new. The good news is that, with hookah flavors, people can do more than just that. You can combine any flavor of your choice during your shisha session with your friends. Not only 2 but 3, 4, 5 flavors at once! Thus, you are entitled to an entirely new experience with something different.
Today, at Smoke Fun blogs, we are going to discuss such mixes. If you want to get some of the best flavors to mix during your session, you can always check out our hookah shop inventory. We only keep hookah flavors from the top brands worldwide. So get ready to have a thrilling experience with the best hookah mixes of all time.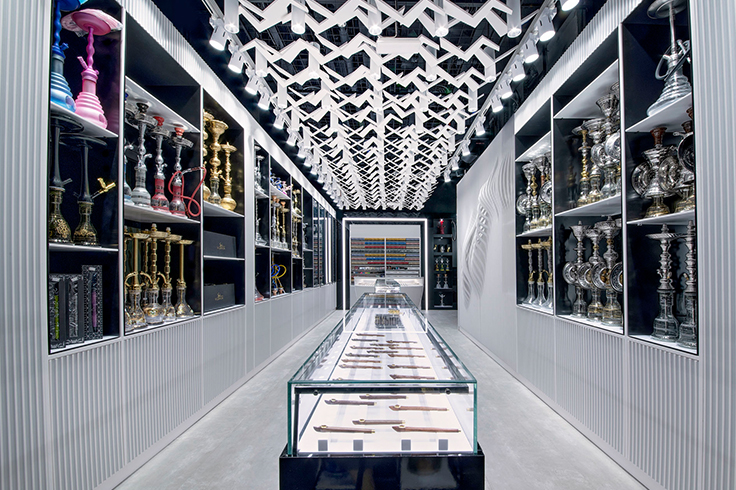 Hookah Flavor Mixes: Smoke Fun's Hookah Shop Recommendation
The first step towards creating the best mixes for your shisha session is getting the right ingredients. The task might look daunting initially. However, choosing the best flavors from the hookah shop is pretty easy. Whether tobacco-free or with a potent tobacco variant, you can mix any flavor as long as you follow our blog. So keep reading.
Imagine the flavors for your shisha mix as some other aspect of life. For example, you might often mix your favorite drinks together for a sweet or sour experience. You might even try something which tastes like fruit and cream. This is the same issue when you have to mix shisha tobacco for your hookah session. So get ready to tantalize your taste buds.
Making the perfect shisha mix will complement the taste of different tastes you would get with your mix. If you have any doubts, visit your local hookah shop, pick any two flavors, bring them close to your nose and smell them together. Your nose is a robust tool! With it, you can now determine whether something is going to suit your preference or not. A good smell will give you a good understanding of what the shisha mix will taste when you smoke it. You need to be creative and not worry about the end result. Experiment with different flavors from the hookah shop and try them! You could never be sure if anyone would like it or not until you try it.
Let us now hop into the best mixes from our hookah shop, which would surely satiate your taste buds.
Sweet and Sour Shisha Mix
To get you started, you can try a sweet and sour mix for your shisha session. You need to have the sweet and sour blends separately. Both of these blends should match with each other to keep the fruit flavors at the forefront. This mix is always a go-to for any hookah session. You can easily make this mix with the help of any hookah brand from your trusted hookah shop.
Dessert Shisha Mix: Best in Hookah Shop
Dessert mixes are pretty amazing if you are someone with a sweet tooth! There are various dessert mixes available at your local hookah shop, or you can even make one according to your preference. Dessert shisha mixes are usually vanilla, peanut, graham cracker, chocolate, or coffee-flavored hookah. Of course, you would have to add your favorite dessert mix to your choice of fruit shisha to obtain the perfect outcome.
So, here are the two of the unique mixes which we had in store for you. Let us now hop into various hookah mixing techniques to determine which one will give you the best output.
Hookah Mixing Techniques
Once you have chosen the best hookah flavors and mixes from your trusted hookah shop, we can move on to baking now! Various techniques have their own benefits. There are some flavors that you might find better than anyone. As we have already said, the choice of hookah flavor is entirely on your personal preference. You need to have the perfect ratio of hookah flavors for your shisha session. If you are not sure which technique to proceed with, look at the points mentioned below.
Layered Hookah Flavor Mix
Layering is one of the unique things which any professional shisha smoker does. When you layer your favorite flavors, it will change the complete outline of your shisha session. Layering works best with old-style clay hookah bowls. You would have to pack the most protuberant flavor first. Then, the shisha flavor with the maximum density goes at the bottom of your mix, straight on top of the shacks in the bowl. After that, you would have to pack the shisha bowl just like you generally would. Make sure that you have chosen the perfect shisha flavor according to your preference from your local hookah shop. Then, add the flavor in layers, each overhead the last.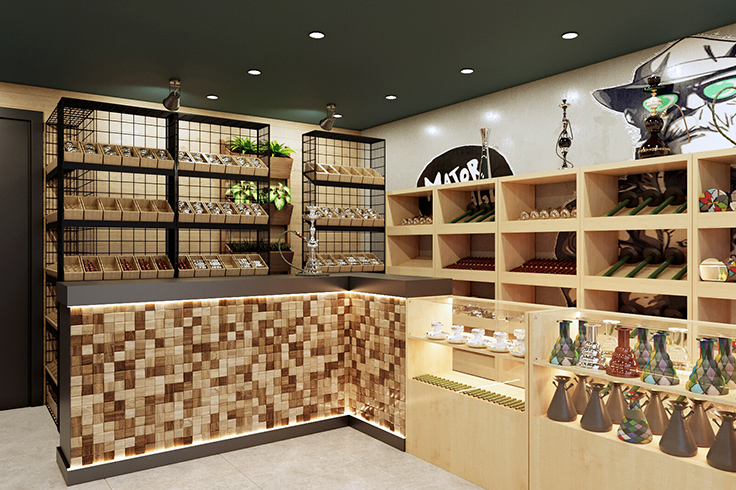 Side By Side Shisha Mix
If you are using a funnel bowl, the side-by-side mixing technique is the best packing method. Place each of the shisha flavors around the center spike. In theory, each palate would have its own quadrant of the bowl. You can always switch amongst the flavors and understand which flavor you like the most! Move the charcoal on top of the flavor which you want to try and blow your puffs!
Let us now talk about how you can host the perfect hookah party in your home with a few basic items from your local hookah shop.
Host A Hookah Party In Your Home: A Few Basics
If you have been thinking about hosting a hookah party in your home, then you are at the right spot to take suggestions. We understand that you have exquisite taste, and you really know how to bring your friends together. However, if you aren't able to set up your hookah correctly, it could be problematic.
There are a few basic things that you need to keep in your mind before hosting the perfect hookah party.
Hosting a hookah party indoors is not advisable. The need for a proper ventilation system is necessary. Since most people do not have such a ventilation system, you could find all manner of problems arise if you host your hookah party indoors.
Yet again, it is not necessarily impossible to host a hookah party indoors. Opening the windows may be sufficient, particularly if you have fans blowing out. Thus, you could now have a good hookah party indoors if you are careful.
Have Fun, But Be Responsible
We understand that hosting any party needs loud music! However, warn your neighbors to be prepared if that will be an intrusive thing for them. You also need to make sure that you get your shisha tobacco from the best hookah shop. Choose the right tobacco to stock up.
If you do not have a local reseller, your best bet would be to do some research and find a quality hookah shop. Choose the things that will suit you and your guests perfectly. If you are a professional smoker in hookah culture, then you will know what you like.
Visiting hookah bars and pubs is excellent! But when you host your own party, you and your friends can enjoy shisha precisely the way you like to. Of course, you must consider the condition of your home before hosting any such party. If it is, then you can experience the massive fun right at the comfort of your home!
What Do You Find At Your Local Hookah Shop?
Alright, so your party plan is all set! You have your list of friends already invited. Now you require a shisha pipe, charcoal, and a range of shisha flavors. Are you wondering where you would get these?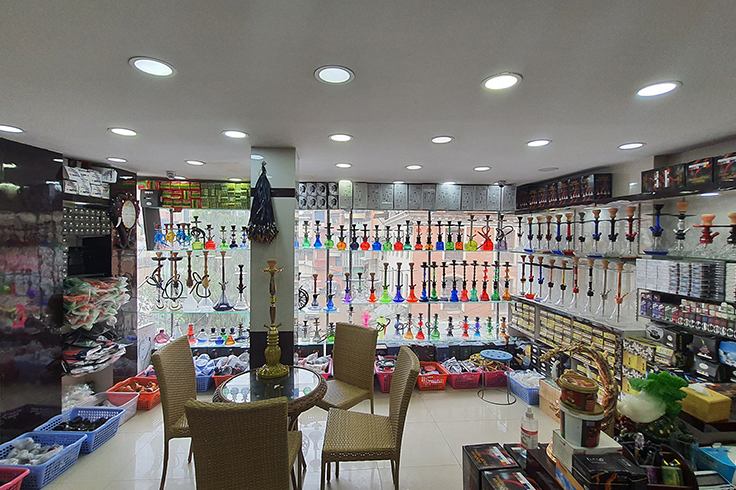 Your local hookah shop would have a collection of these. If not, you can always check out our store having a wide variety of shisha equipment.
Ending Note
We hope that you already know where you should get your hookah tobacco, setup, and accessories by now. You must always choose the best hookah shop for your needs. Smoke Fun is one place where all your hookah requirements are fulfilled. Purchasing a hookah setup, accessories and shisha isn't an easy task. However, once you start smoking shisha, you will know about all the technicalities related to a shisha session.
Feel free to contact us for any further queries. We will try our best to clear them out for you within no time.